Easy, simple way to use up courgettes (or zucchini, for our american friends); if you're no longer in need of courgettes, but are in need of bread 🙂
Also a bit of a warning, as this recipe is a hand-me-down from relatives that hail from foreign parts, it's an american-style recipe that uses volumes instead of weights – which as you know can be less accurate, so you'll need to use your eye as well.
Apologies for some of my recipes that use both volumes and weights, they are usually adapted and have evolved over time….. as long as you end up with something tasty in the end, it's all good I say 🙂
Ingredients
⦁ 1 egg
⦁ 1 cup sugar
⦁ 1/2 cup (125mL) vegetable oil
⦁ 1/2 tsp vanilla – I like to use bean paste
⦁ 1 cup grated courgette, packed
⦁ 1 & 1/2 cups plain flour
⦁ 1/2 tsp baking powder
⦁ 1/2 baking soda
⦁ 1/2 tsp salt
⦁ 3/4 tsp cinnamon
⦁ 3/4 cup raisins
⦁ 1/4 cup chopped pecans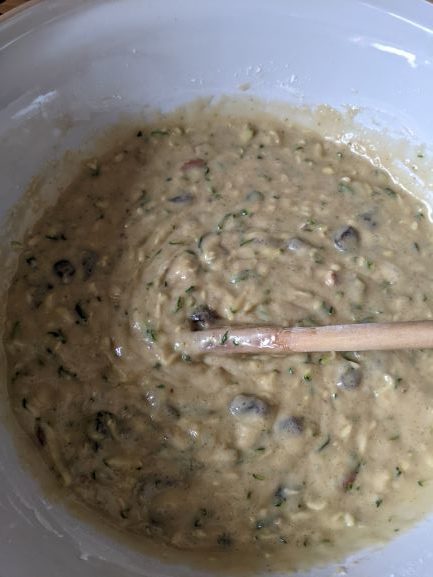 Directions
Beat eggs until fluffy.
Add sugar, oil, vanilla, courgette. Beat well.
Add dry ingredients & mix well.
Add nuts & raisins.
Pour batter into well greased & lined loaf tin. Bake @ 180 C for ~1hr 15 minutes, or until a toothpick inserted in the middle comes out clean.