Another one nabbed from BBC GF I'm afraid! Original recipe here. I had the first go as-is, just with some beans on the side, but the first round of leftovers I had over some pasta, which was also very nice.
Ingredients

⦁ 3 head white chicory
⦁ 2 tbsp olive oil
⦁ 4-6 tbsp dry white wine
⦁ 4-5 chicken breast
⦁ 50g butter
⦁ 2 escallion shallots, diced
⦁ 3 garlic cloves, diced
⦁ 1 tbsp plain flour
⦁ 300mL whole milk
⦁ 150mL crème fraîche
⦁ 2 tbsp dried marjoram
⦁ 3 tbsp dijon mustard
⦁ 3 tbsp wholegrain mustard
⦁ 50g gruyère cheese, grated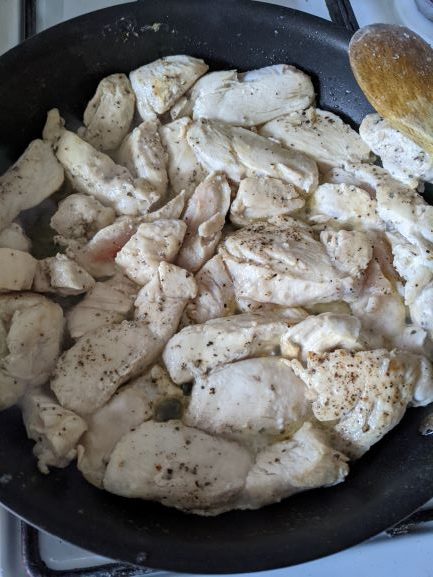 Directions
De-stalk & quarter the chicory. Oil a baking pan or roasting tin & bake the chicory & wine covered 200C for 10-12 minutes.
Slice chicken into strips & season. Fry in a frying pan with 25g of the butter for 5 minutes or until golden. Stir in shallots & garlic; cook for a further 1-2 minutes. Tip chicken mixture into chicory.
Melt the remaining butter, stir in flour. Gradually add milk, stirring continuously until mixture thickens. Add crème fraîche, marjoram & mustard. Remove from heat. Test & adjust seasoning if necessary.
Pour sauce over chicory chicken; top with grated cheese. Bake uncovered for 30-40 minute until bubbling & golden.
Can be served with your favourite pasta or rice.