As I've mentioned in previous posts, I have a somewhat uneasy relationship with the mighty beetroot. I love it's colour, but often feel it's more appreciated by the eye rather than the taste buds. So in my continuing quest to love this beautiful, but somewhat lacking (in my mind) veggie, I've done what is only rational: turn it into something else. Specifically, CAKE. So, in continuing with the theme of vegetable cakes, I bring you: CHOCOLATE BEETROOT CAKE. This 'cake' is more like a dense brownie, and certainly packs a punch. If, like me, you don't really have much of a sweet tooth, you only need a tiny slice of this beast. On the other hand, if you have a massive sweet tooth, this is the definitely the cake for you.
TL;DR: How to love beetroot: turn it into chocolate cake.
Original recipe from the mighty Jamie Oliver, available here.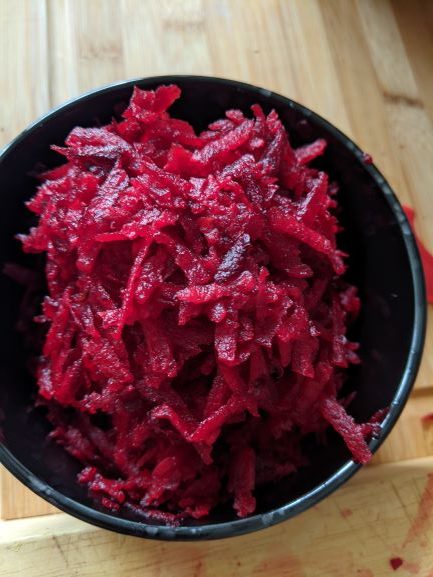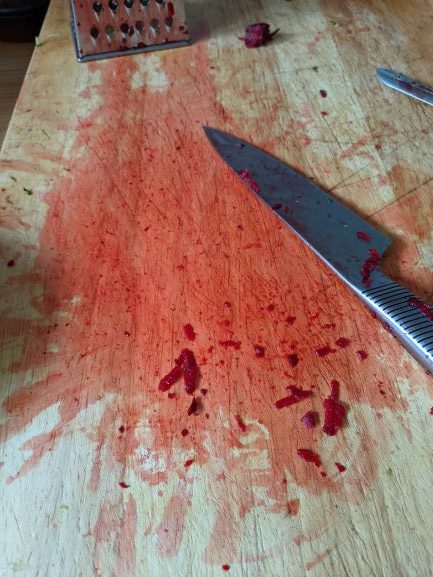 Ingredients
⦁ olive oil
⦁ plain flour, for dusting
⦁ 300 g good-quality dark chocolate (70% cocoa solids) – (I actually used chilli chocolate, but disappointingly the chilli didn't come through in the cake)
⦁ 25g cacao nibs
⦁ 250 g raw beetroot
⦁ 4 large free-range eggs
⦁ 150 g golden caster sugar
⦁ 120 g ground almonds
⦁ 1 teaspoon baking powder
⦁ 1 tablespoon cocoa powder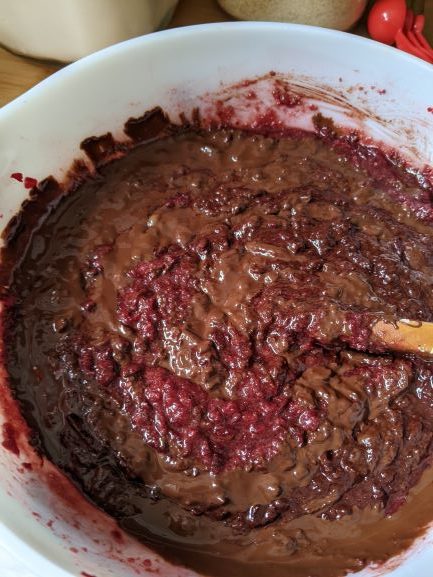 Directions
Preheat oven to 180°C.
Lightly grease the bottom and sides of a 20cm springform cake tin with olive oil. Trace the bottom of the tin with a pencil on greaseproof paper, then cut out the circle and use it to line the base. Dust the sides of the tin lightly with flour, then tap the tin to get rid of any excess.
Break 300g chocolate into pieces into a heatproof bowl.
Place the bowl on top of a small pan of simmering water over a medium heat, and allow to melt, stirring occasionally. Add 25g cacao nibs to the melting chocolate.
Once melted, carefully remove from the heat and put to one side.
Peel the beetroot, then grate. Put into a large mixing bowl.
Separate the eggs, placing the whites into a clean mixing bowl and adding the yolks to the grated beetroot.
Stir the sugar, almonds, baking powder, cocoa powder and melted chocolate into the beetroot and mix together well.
Use an electric hand whisk to whisk the egg whites until you have stiff peaks (or if you're wealthy on both time and muscles, have at it with a hand whisk. Satisfying!)
Use a spatula to fold a quarter of the egg whites into the beetroot mixture, then once combined, fold in the rest but try not to over-mix.
Add the mixture to the prepared cake tin and spread out evenly using a spatula.
Bake in oven for around 60 minutes, or until risen and cooked through. Check with a toothpick to the centre: if it comes out clean it's done; if it's slightly sticky it needs a bit longer.
Allow the cake to cool slightly, then carefully turn it out on to a wire rack to cool completely.