A lot of muttar paneer recipes involve making a paste & blending, so everything is nice and smooth and pretty.
This recipe doesn't do that. Partly because I'm lazy, and partly because I like texture to my food. Might as well chew while I still can; I'll save the blending for when my teeth fall out.
…or at least until I need a lassi 🙂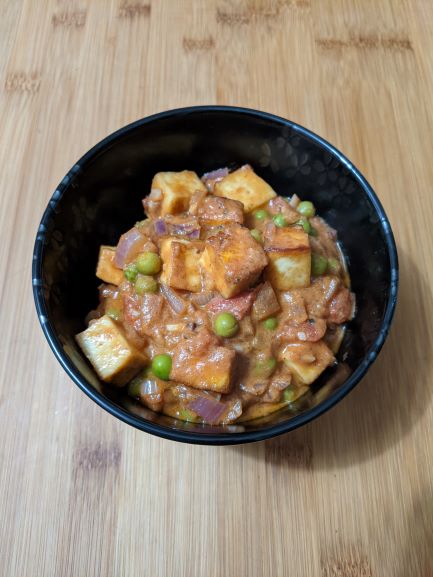 Ingredients
250g paneer cheese, cut into 1cm cubes
2tbsp oil for frying
½ a medium sized red onion, chopped
2-4 cloves garlic, diced
small knob of ginger, approx. 2-3cm, grated
1 tsp ground cumin
1 tsp ground turmeric
1 tsp ground coriander
1tsp chilli powder
400g tin of chopped tomatoes, or 6 medium tomatoes, chopped, or a combination of the two
1.5 tsp garam masala
pinch of smoked paprika (optional)
200g peas – you can use frozen or fresh
2 tbsp Greek yogurt (optional)
small bunch coriander, roughly chopped
salt & pepper to taste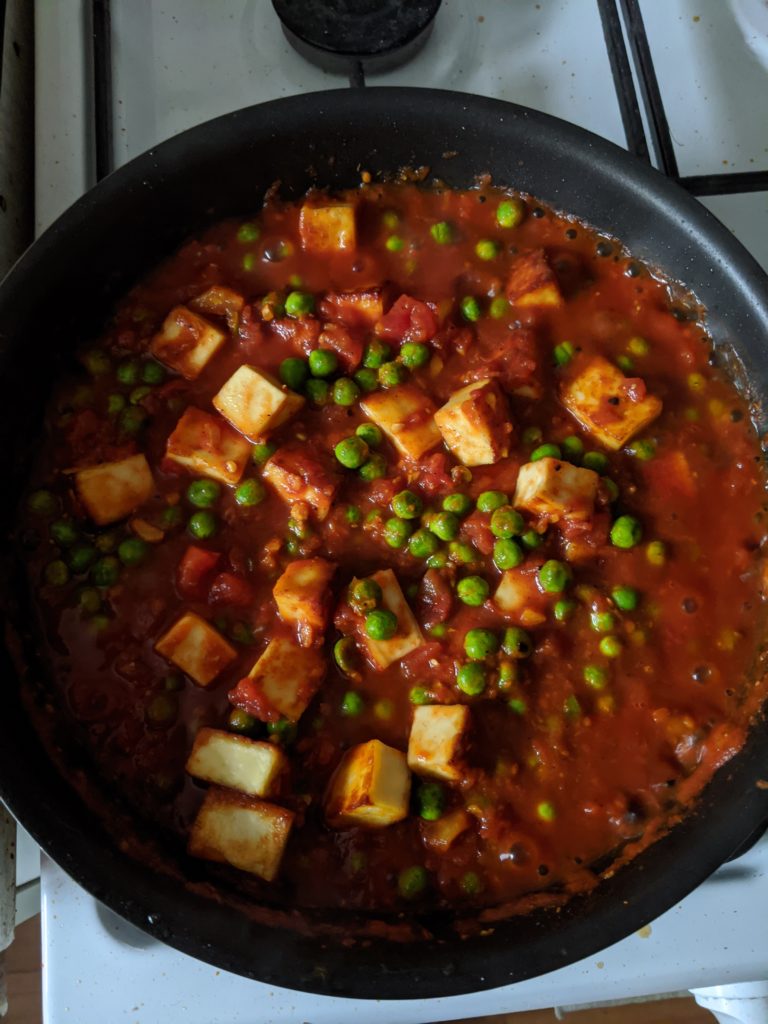 Directions
Fry the paneer in a frying pan with 1 tbsp of the oil until browned on all sides; be careful not to burn them! Remove from pan & set aside.
Fry the onions with another tbsp of oil for a few minutes, then add the garlic, ginger, cumin, turmeric, coriander & chilli powder. Fry for a further 1-2 minutes
Add the tomatoes. Stir together. Add water to thin the sauce, if required. Add salt & pepper to season. Bring to a bubble, then reduce. Add garam masala.
Taste & adjust spices & seasoning, if required. (I usually end up adding more chilli here, and sometimes a pinch of smoked paprika, to add a hint of smoky depth. But really only add a pinch – it's way too easy to overdo it).
Once the above is all seasoned, adjusted & heated through, add the peas & simmer for 2 minutes.
Stir through the yogurt, if using.
Add the paneer & stir through to warm.
Sprinkle with coriander to serve.
Can be paired with your favourite rice, or warmed roti/chapatis.