When you're sick of cabbage, but not sick of coleslaw.
Obviously using home made mayonnaise is best, but if you can't be arsed, fair enough really.
Ingredients
1 celeriac, cut into thin matchsticks/julienne
equal parts mayonnaise & crème fraîche – approx. 3-4 tbsps each
freshly squeezed juice from ½ lemon
1 tbsp wholegrain mustard
1 tbsp dijon mustard
small handful of gherkins, finely chopped
small bunch dill, finely chopped
salt & pepper to taste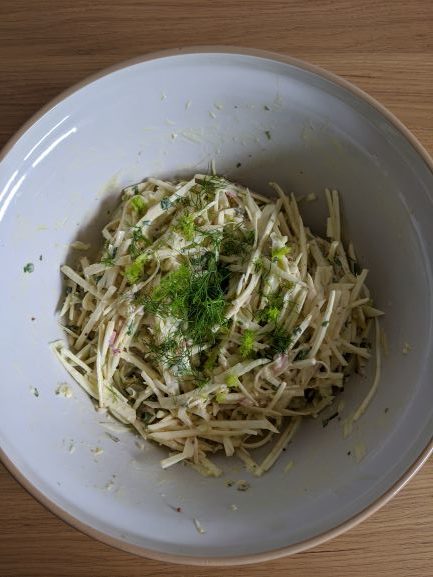 Directions
Place cut celeriac in a large bowl.
2. Mix remaining ingredients in a large measuring cup or small bowl, setting aside some of the dill. Taste, and adjust the seasoning as required.
3. Pour dressing over celeriac & toss together.
4. Chill 1 hour before serving.
Can be served as a side dish, on top of your favourite burger (bean or otherwise), or as a starter/hors d'oeuvre by dropping a small amount of the remoulade into a small endive/chicory leaf & topping with a small rosette of thinly sliced parma harm, prosciutto or speck.