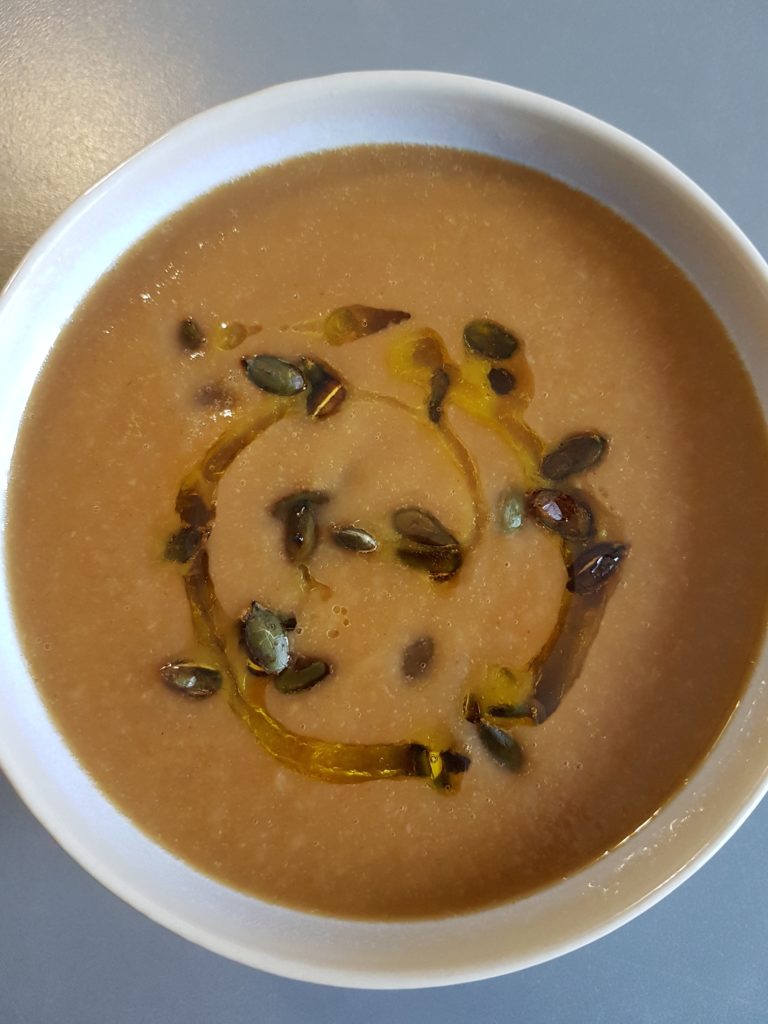 A creamy, warming soup and a great way to use up butternut squash! Cannellini beans add protein.
Ingredients
1-2 butternut squash
1-2 onions
1-2 cloves of garlic
Olive oil
Salt and pepper
1t ground cumin
1t ground coriander
1t ground smoked paprika
1 tin cannellini beans (or equivalent cooked from dried)
 1 litre soup stock or water
Zest from 1 lemon
Method
Preheat oven to 200 C.  Peel and chop the butternut squash into chunks. Peel and chop the onion(s) into wedges. Peel the garlic. Put all of the veg into a roasting tin, slosh some olive oil over the top, sprinkle with the spices and some salt and pepper. Roast for half an hour until the butternut squash is soft.
 Transfer the veg to a large pot, tip in the beans and cover with stock. Bring to a boil.  Switch the heat off and blend until smooth with a stick blender. Finally, stir in the lemon zest.
Tip: I like to serve this with a scattering of toasted pumpkin seeds.  To make these, while the veg is roasting dry fry pumpkin seeds in a single layer in a frying pan. Wait until they have all popped.  While still hot, stir in 1 teaspoon of soy sauce and stir quickly to coat! These will store well in a jar, if they last that long!