Yep, another curry! I'm afraid I did this one a few weeks back and in typical fashion did not write down what I was doing so all instructions are approximate :S
I did however take a helpful photo, so basically take what veg you've got hanging about & curr-ify it XD
Also just another warning if this is the first of such of my recipes you've come across: a) I like garlic. A lot. b) I like chillies. Also a lot. c) I tend to make big batches & freeze portions, so this will probably feed 6+ people.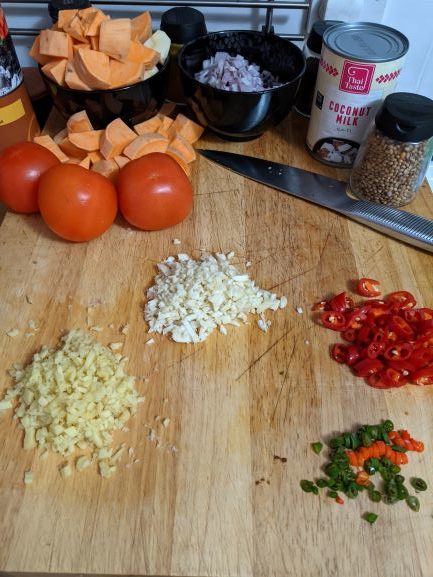 Ingredients
⦁ oil for frying
⦁ onions – 2 small / 1 large – can be red or white, chopped
⦁ garlic – always use more than any recipe tells you, except for mine. I think there's probably about 8-10 small cloves in that picture – diced
⦁ fresh ginger root -about 1.5-2cm chunk -(mostly) peeled & grated if you've got the will; diced if you do not
⦁ a number and variety of chillies, depending on your heat appetite; I used ~2 regular chillies + 3 birds eye, you may prefer less of course
⦁ cumin seeds, 1.5 tsp
⦁ coriander seeds, 1.5 tsp crushed in a mortar & pestle
⦁ turmeric, 1tbsp ground
⦁ garam masala, 1tbsp, ground
⦁ butternut squash – 1, peeled, de-seeded, cut into chunks
⦁ parsnips – 2-3, peeled & cut into chunks
⦁ sweet potato – 1 had 1 small one, so just there it in for fun
⦁ carrot – I think I may have had a spare carrot hanging about I threw in there too
⦁ tomatoes – looks like I used 3
⦁ tined chopped tomatoes – 1 tin
⦁ chickpeas – 1 tin, drained
⦁ coconut milk, 1 tin
⦁ spinach – a bunch/couple handfuls of washed spinach, roughly chopped (or a few handfuls of the tender baby sort)
⦁ small sprinkling of chopped coriander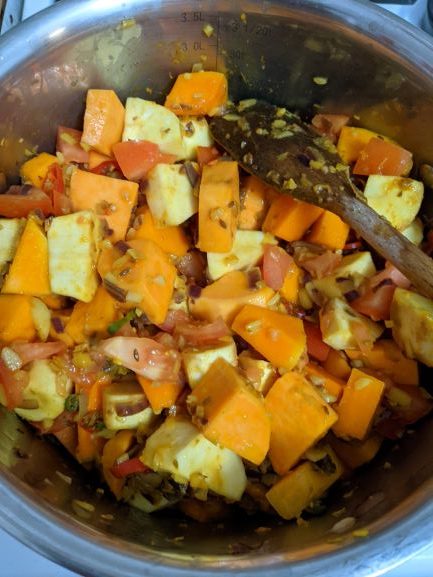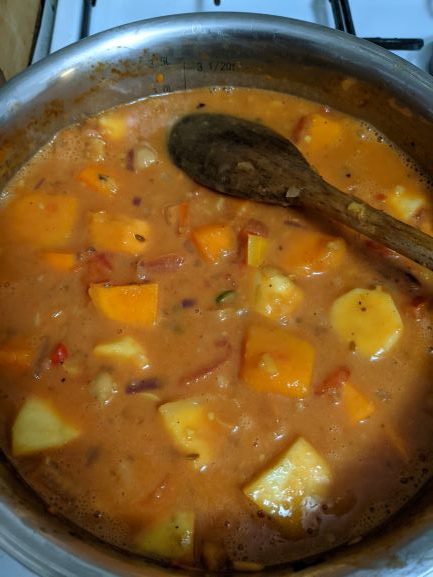 Directions
Fry onions in oil for a few minutes.
Add garlic, ginger & chillies, fry another few minutes.
Add spices, fry a bit longer.
Add veg, stir through.
Add tinned tomatoes, chickpeas (& some extra water if needed; you can use stock here too if preferred); bring to boil, then simmer.
Add coconut milk. Simmer low heat until veg tender. Add seasoning.
Add spinach; stir through until wilted. Adjust seasoning if required.
Add coriander. Stir through.
Eat! Serve with your favourite flatbread or rice.