This is a dish which I tend to make in big batches & then freeze portions for later easy/lazy meals. If you don't want lentil stew coming out of your ears for later times, I suggest you cut the recipe down by 1/2 or 2/3.
It's also a dish which I totally eye-ball the ingredients as I go, and it's never quite the exact same dish twice. So I guess what I'm saying here, is the amounts are a guide. Add & remove as you see fit 🙂
You can also easily make the recipe vegan, by just using oil instead of the butter/ghee, and leaving out the yogurt. I've tried it this way too, and it's just as good – and I really like butter 😉
Ingredients
1.5 cups split red lentils
1.5 cups split pigeon peas
4-6 green chillies, chopped
2 medium red onions, chopped
5 medium fresh ripe tomatoes, chopped
2cm knob of ginger, finely chopped
2 cloves garlic, finely chopped
1.5 tsp turmeric
1.5 tsp garam masala
pinch of asafoetida
4 tbsp Greek yogurt
bunch of coriander leaves, finely chopped
a large knob of butter or ghee
2 tsp cumin seeds
10 large cloves of garlic, finely chopped
6 dried red chillies, seeds in tact – about half of which should be ripped into pieces, the others remain whole
pinch of asafoetida
2 tbsps crushed fenugreek leaves
1 teaspoon chilli powder
2 pinches smoked paprika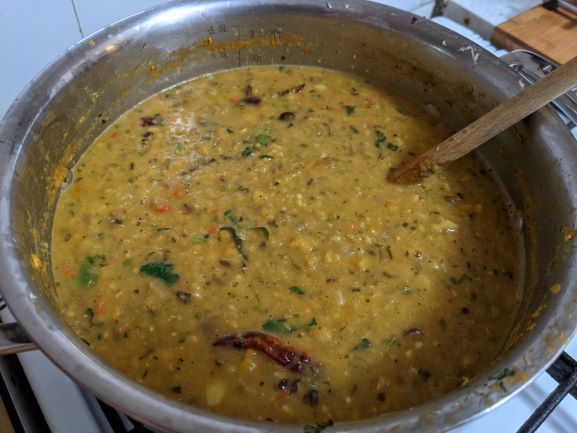 Directions
Rinse the lentils at least 2-3 times, and then soak them for 1-2 hours.
With just enough water in the pot to cover the lentils, add onion, green chillies, tomatoes, ginger, garlic to the pot. The water level should be just enough to cover everything in there. You can always add more later, if it looks like it needs it.
Add the turmeric, garam masala & a pinch of asafoetida (ONLY a pinch!)
Simmer together the ingredients for at least an hour, possibly longer, until they are cooked and soft. Check frequently & add more water as needed.
Add a pinch or two of salt.
When the lentils are near finished, in a separate small pot, heat the butter/ghee or oil and fry the cumin seeds until they crack. Be careful not to burn them! If you do, discard & start again….
Once the cumin seeds are toasted (& definitely NOT burnt!), add the dried chillies, garlic, & a pinch of asafoetida; fry a little on a low heat until the garlic browns.
Add the fenugreek leaves, chilli powder, & smoked paprika. Stir together & remove from heat.
Pour the butter/ghee/oil, garlic & spice mixture into the big pot of lentils. Mix well.
Stir in the yogurt, if using, and some of the fresh coriander, setting some aside for garnish.
Taste; check the spicing and seasoning and adjust where necessary.
Serve with your favourite rice or flatbread.