A soup that can be made from the leftover roasted squash you couldn't quite eat, or skip the roast & go straight to the soup.
This recipe also works with pumpkin instead of squash. I'm sure other squashes might also work, but I haven't yet tried.
Top tip: save the seeds from the squash; you can sprinkle them with a bit of salt & toast them – they make an excellent salad topper, beer snack, or even a garnish for your soup. Also true for pumpkin seeds.
The recipe can be made vegetarian by using veg stock instead of chicken; and made vegan by using only oil (no butter) & skippping the crème fraîche – you could try coconut creme instead.
Ingredients
1 butternut squash, peeled, deseeded, cut into 2cm cubes
2 tbsp olive oil
a good knob of butter
2 medium onions, chopped
3 cloves garlic, diced
2 red chillies, chopped (keep the seeds in for more heat)
2 birds eye chillies, diced (keep the seeds in for more heat)
1-2 very ripe or over-ripe pears, chopped
1.5L chicken or vegetable stock
5 tbsp crème fraîche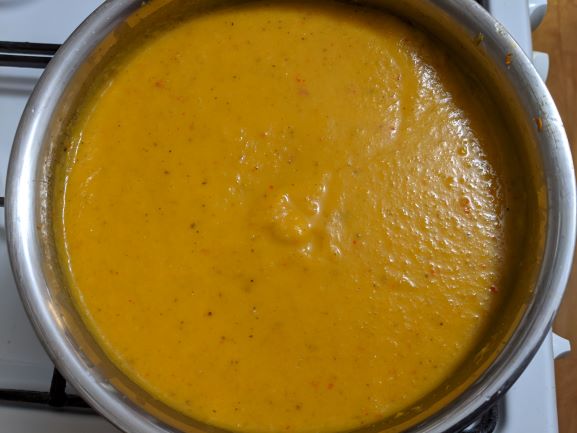 Directions
Toss squash with olive oil, season, & roast for 30-35 minutes at 200 C, turning once while cooking.
While the squash is in the oven, fry the onion, butter & oil in a pot, adding the garlic & chillies after the first minute. Fry until the onions are crispy transparent.
Once the squash has been cooked until soft, remove from oven & tip into pot with onion mixture.
Add the chopped pears.
Add the stock, & blend with a stick blender until smooth.
Add the crème fraîche & blend again.
Return to heat, taste, adjust seasoning if required.
Serve with extra crème fraîche, diced chillies & toasted seeds to garnish.