Ingredients
butter, 1-2 heaped tbsps
olive oil, a good glug
mushrooms, ~350-450g
garlic, 2-4 large cloves (I love garlic, so have used more!)
thyme, dried 1.5 tsp
oregano, dried 1.5 tsp
crème fraîche, ~150mL
salt & pepper
parmesan, 3-7 small slices, crumbled, to taste
your favourite pasta, cooked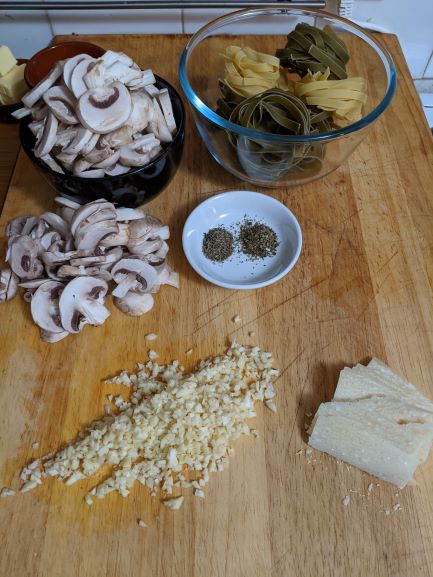 Directions
In a large frying pan, fry the mushrooms and garlic in the butter & olive oil until just browning, 5-7 minutes.
Stir in the crème fraîche, thyme & oregano. Add seasoning to taste. Bring to a boil; as soon as it reaches a bubble, reduce heat & simmer 5-7 minutes until thickened.
Stir in parmesan.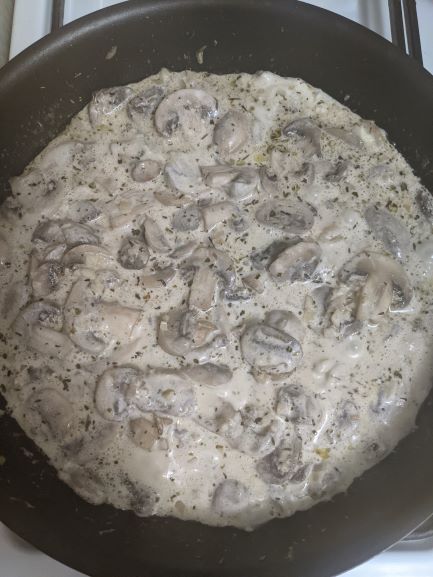 Serve on a bed of warm freshly cooked pasta – I find a ribbon pasta works best (tagliatelle, pappardelle, fettuccine….) but you can use anything you like! I've used a mix of regular & spinach tagliatelle.
Out of convenience I've use dried herbs here, but you can also use fresh. If using fresh, reduce the amount of each by 0.5 tsp.