Ingredients

-a good glug of olive oil for frying, ~30mL
-small handful of cumin seeds
-1 large onion, chopped
-4-7 large garlic cloves (depending on taste), chopped
-a good sized knob of ginger (~2cm), finely chopped or grated
-1.5 tsp ground turmeric
-1.5 tsp crushed coriander seeds
-2-5 fresh chillies, to taste and heat preference
-5-7 dried red chillies, chopped or torn
-1 large sweet potato, peeled and cut into small cubes
-1 tin chickpeas, drained
-1 tin chopped tomatoes (you can also throw in some fresh ones if you've got some lying about on the turn)
-1 tin coconut milk
-small bunch coriander leaves, roughly chopped (optional)
-1/4 to 1/4 cabbage of any type, chopped or shredded
-salt to taste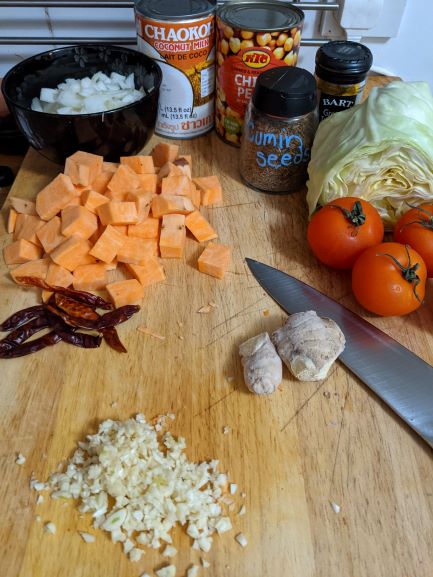 Directions
In a large pot, fry the cumin seeds in the oil for about a minute, just to toast them, be careful not to burn them. Add the onion and a pinch of salt. Fry until crispy translucent/
Add garlic, ginger, tumeric, corriander seeds, chillis, dried chillis. Continue to fry for a couple minutes until garlic softens and it becomes fragrant.
Add sweet potato, chickpeas, tin tomatoes (& tomatoes if using), and coconut milk. Cover and simmer for 20-35 minutes until potatoes are cooked through. (You can add a bit of water here too if it's looking a little dry or you would like more liquid).
Stir in cabbage, cook a few minutes longer or until cabbage is softened. Throw in the corriander leaves here too, if using.
Taste, adjust any seasoning.
Can be served with rice, or a number of flatbreads.